In-Service refers to on-going training to maintain and extends existing skills and knowledge, with a focus on evidence-based practice (EBP) and adult learning principles.
CSPD in-service professional development strategies to support a high quality workforce.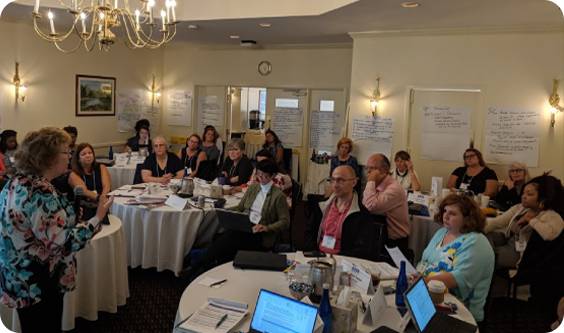 Establish a statewide system of in-service personnel development that is aligned to national professional organizations and state personnel standards across disciplines.
Create a statewide system for in-service personnel development that includes a variety of technical assistance opportunities to meet the needs of Early Childhood Intervention (ECI) personnel in a variety of disciplines.
Recommend that in-service training and professional development is coordinated across early childhood systems and delivered collaboratively, as appropriate.
Ensure that families and/or parent organizations participate in the design and delivery of in-service professional development.
Information about personnel standards for professional disciplines serving children with disabilities from birth to five years and their families by state.
The ECPC collaborated with the Early Childhood Technical Assistant Center (ECTA) to create an Early Childhood Systems Framework for Part C and section B(619) Coordinators to evaluate their current systems, identify potential areas for improvement, and develop more effective and efficient systems that support implementation of evidence-based practices in each of six main areas. The ECPC's work resides in the Personnel/Workforce (PN) component of this framework, which addresses the necessity of understanding workforce capacity in order to provide timely and consistent services by prepared personnel in early childhood. ECPC-CSPD Self-Assessment
Quality Indicators
Quality Indicator 7: A statewide system for in-service personnel development and technical assistance is in place for personnel across disciplines.
Quality Indicator 8: A statewide system for in-service personnel development and technical assistance is aligned and coordinated with higher education program and curricula across disciplines.