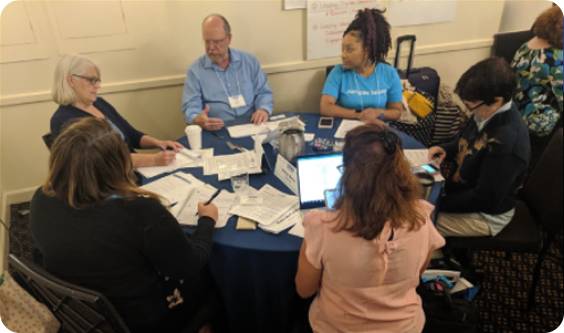 Recruitment and retention strategies to support a high quality workforce.
Recruitment and retention focuses on the recruitment of new early childhood practitioners and the retention of current early childhood practitioners, ensuring efforts are being made to fill position vacancies with qualified personnel and maintain existing personnel.
Use multiple data sources to identify the needs of the Early Intervention/Early Childhood Special Education (EI/ECSE) state workforce.
Use comprehensive recruitment and retention strategies across disciplines.
Address the need to ensure that positions are filled by individuals who meet state and national qualifications to provide early childhood intervention (ECI).
Articulate information related to anticipated vacancies or a need for increased personnel necessary to meet the needs of IDEA eligible infants and young children.
Overview: CSPD Recruitment and Retention Workgroup
Link to State CSPD Page
The ECPC collaborated with the Early Childhood Technical Assistance Center (ECTA) to create an Early Childhood Systems Framework for Part C and section B(619) Coordinators to evaluate their current systems, identify potential areas for improvement, and develop more effective and efficient systems that support implementation of evidence-based practices in each of six main areas. The ECPC's work resides in the Personnel/Workforce (PN) component of this framework, which addresses the necessity of understanding workforce capacity in order to provide timely and consistent services by prepared personnel in early childhood. ECPC-CSPD Self-Assessment
Information about personnel standards for professional disciplines serving children with disabilities from birth to five years and their families by state.
Quality Indicators
Quality Indicator 9: Comprehensive recruitment and retention strategies are based on multiple data sources, and revised as necessary.
Strategies are based on data, current research and stakeholder input.
Strategies target discipline specific shortages.
The effectiveness of strategies is tracked, reviewed annually, and updated as appropriate based on data, current research, and stakeholder input.
Quality Indicator 10: Comprehensive recruitment and retention strategies are being implemented across disciplines.
Strategies include opportunities for advancement through a variety of processes such as articulation between two- and four-year institutions of higher education and access to career pathways/ladders.
Strategies focus on induction, improving administrative supports, and using a variety of mentoring models to support and retain personnel.
Strategies include incentives and recognition programs such as financial compensation, scholarships, service obligations, loan reimbursement and/or tuition reimbursement to improve access to pre-service and in-service personnel development.
Strategies address alternative routes to certification.
Strategies address the usefulness of designing and/or participating in online recruitment systems.