Enhancing In-Service and Professional Development
Establish a statewide system aligned to state and national professional organization personnel standards and the Cross Disciplinary Competencies
Integrate Division for Early Childhood Recommended Practices (RP) into professional development opportunities
Use of evidenced based adult learning practices in professional development

Ensure that families and/or parent organizations participate in the design and delivery of in-service personnel development

Identify additional areas needed to prepare and support a high quality ECI workforce to improve outcomes of infants and young children with disabilities and their families through the delivery of high-quality services in inclusive settings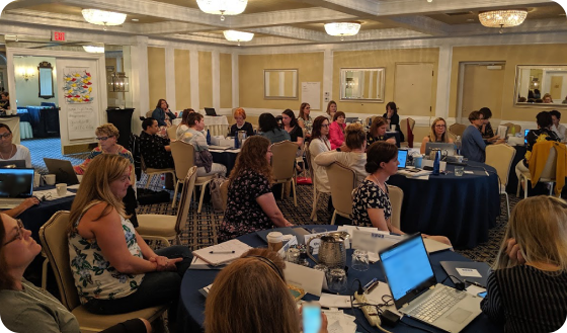 Other identified areas needed to prepare and support a high quality ECI workforce to improve outcomes of infants and young children with disabilities and their families through the delivery of high-quality services in inclusive setting
Course Enhancement Materials: videos, practice guides, and resources
Each learning series has an introduction, practice illustration and implementation activities and resources.
Professional Development Planning Tools
Cross-Disciplinary Competencies
Representatives from each of the seven professional organizations reviewed the competency areas and sub-areas and presented these core competency areas for approval to each of their respective organizations. American Occupational Therapy Association (AOTA); the American Physical Therapy Association (APTA); the American Speech-Language-Hearing Association (ASHA); the Council of Exceptional Children (CEC) and the Division of Early Childhood (DEC), the National Association for the Education of Young Children (NAEYC); and ZERO TO THREE.

Articles
Case studies and articles illustrate the cross-disciplinary competencies and are for use by Higher Education faculty and Professional development staff.
Crosswalks of the Division for Early Childhood (DEC) Recommended Practices
The crosswalks are designed to assist faculty and professional development providers in identifying the intersection of the DEC Recommended Practices with the CEC and NAEYC Standards as well as the DEC knowledge and skill statements. The crosswalks provide a resource to facilitate the integration of the DEC Recommended Practices by higher education faculty and professional development providers into course/workshop activities, assignments, and fieldwork.
Personnel Standards Alignment
These alignments were done to assist higher education faculty and professional development staff to align their curricula with knowledge and skills and standards for early childhood special educators who serve infants and young children and their families.
DEC Recommended Practices

DEC Recommended Practices are a DEC initiative that bridges the gap between research and practice, offering guidance to parents and professionals who work with young children who have or are at risk for developmental delays or disabilities.
Remote Intervention Tools