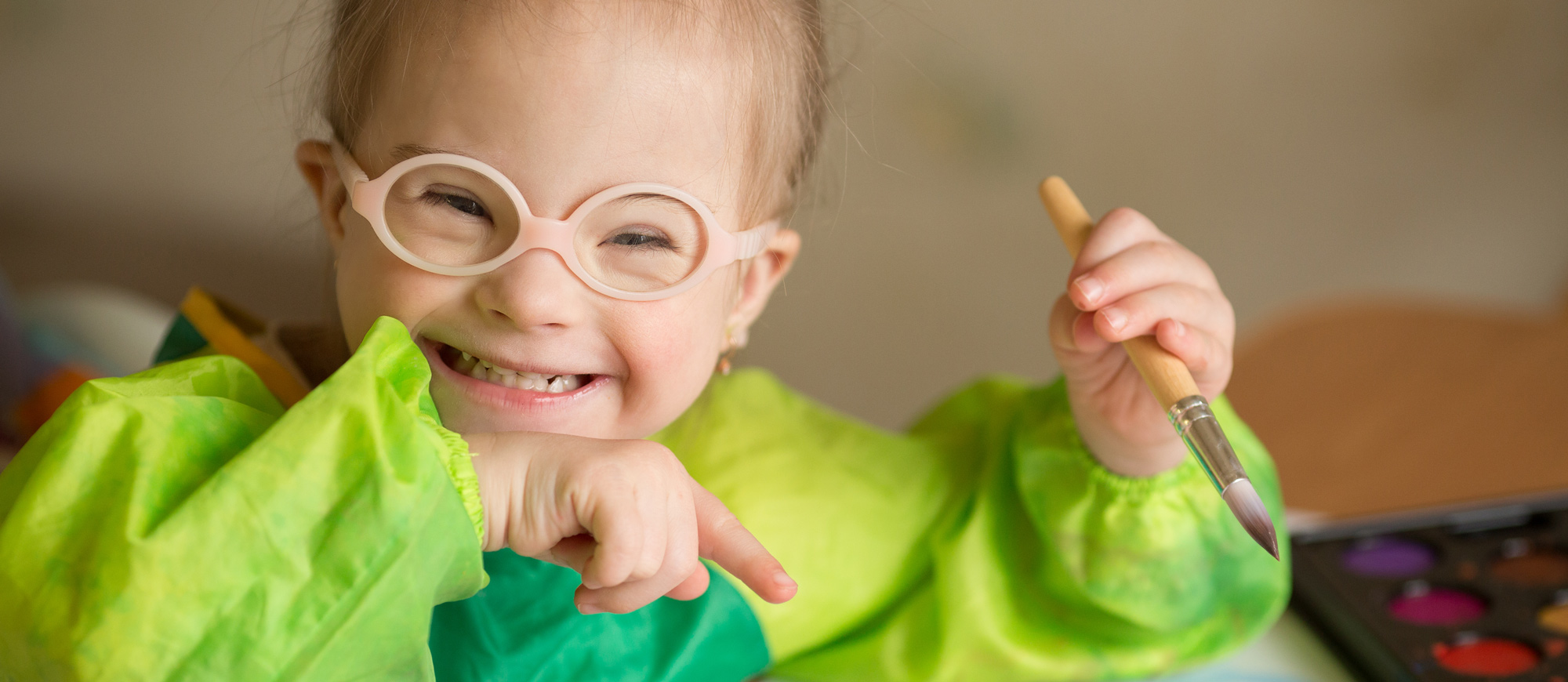 The Early Childhood Personnel Center (ECPC) is funded by the Office of Special Education Programs to assist states to develop, implement, and evaluate integrated and comprehensive systems of personnel development (CSPD) for the early childhood workforce so that young children with disabilities and their families receive effective early childhood intervention.
Each issue will focus on one of our audiences:
ECPC is focused on building awareness that an integrated, comprehensive system of personnel development (CSPD) for the early childhood (EC) workforce in every state - one that is cohesive with state and national personnel standards, competencies, and recommended practices, will produce the most successful outcomes for children and families with disabilities. We provide Technical Assistance to build statewide early childhood CSPD for the following audiences:
IDEA Part C & Part B (619) Coordinators

Institutes of Higher Education (IHE) Faculty, Doctoral Students

Families involved in State systems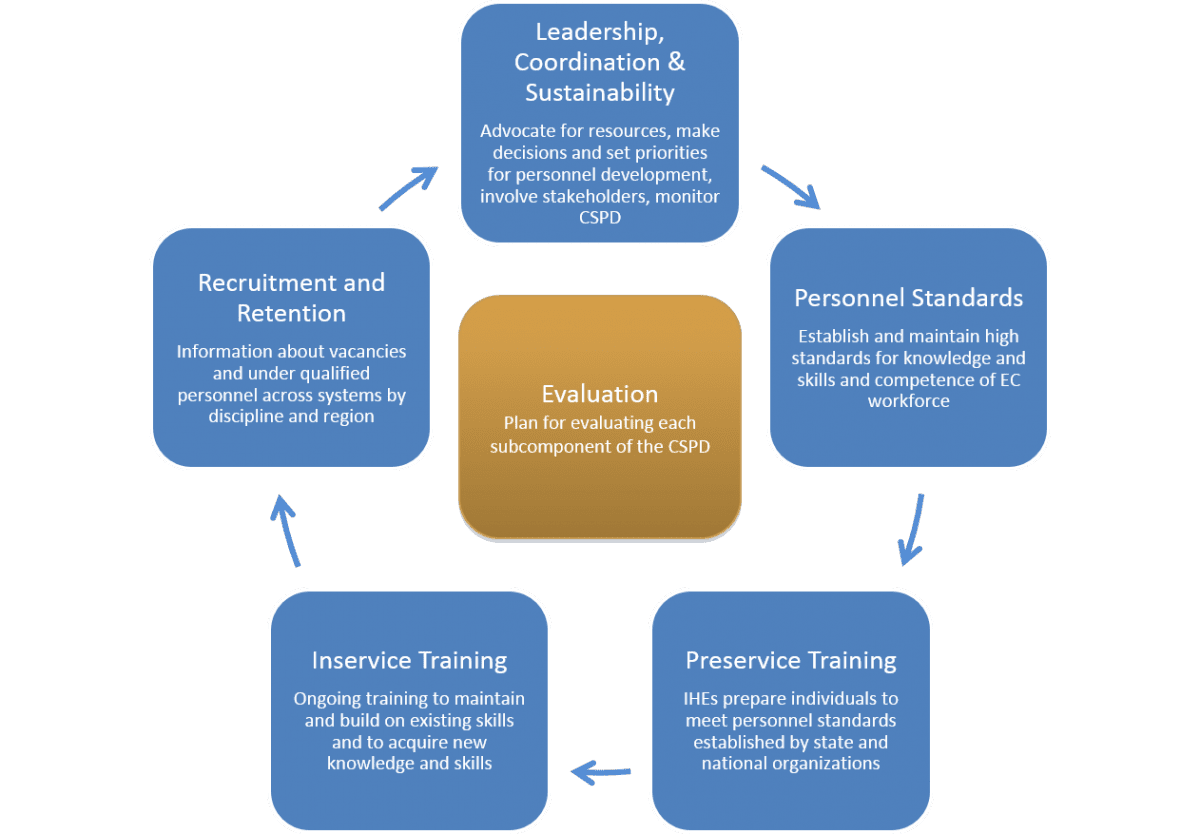 Shortages of personnel

Need for additional training at both the pre-service and in-service levels

Discrepancies with state adherence to national competencies and standards

Challenges faced by EC personnel due to the diversity of needs of young children and their families

Inequities of preparation and compensation among those providing services
ECPC Resource Spotlight for IHE Faculty:
The Curriculum Planning Tool was developed to support IHE Faculty. The intended use of the ECPC Curriculum Planning Tool is to provide higher education faculty a tool to develop initial Early Intervention/Early Childhood Special Education (EI/ECSE) programs and blended Early Childhood Education (ECE) and ECSE programs aligned with personnel preparation standards and recommended practices and to ensure that the standards and recommended practices are embedded within and throughout the curriculum.  The development of the ECPC curriculum planning tool was driven by the CEC Initial Special Education Professional Preparation Standards (2012), the DEC Initial Specialty Set: ECSE/EI knowledge and skill statements, and the NAEYC Professional Preparation Standards (2010), aligned with the DEC Recommended Practices (RPs) (2014).  You will find each DEC RP as a separate tab on the tool. 
 
A crosswalk for each Recommended Practice within the Recommended Practices topical areas was developed and are located on the Early Childhood Personnel Center website, ecpcta.org, under "IHE Faculty".  Given the methodological procedure for these crosswalks, not all personnel standard elements are included. The Leadership practices have not yet been included in the crosswalk.
 
This is a downloadable excel file and should be personalized to meet the needs of your EI/ECSE or blended ECE/ECSE program.  The tabs represent topics in early childhood special education and are not intended to represent single courses within a EI/ECSE program.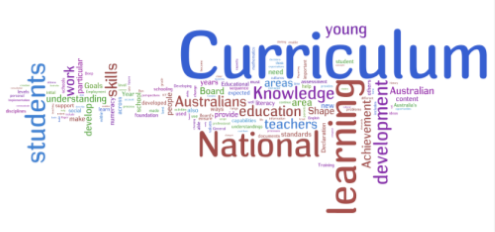 Quotes from IHE Faculty: 
"I've only done environments so far for my courses but this tool provides a quick glance to focus my efforts. I can pick it up when I have a few moments and quickly see where to focus my attention. I don't have the luxury of time to do all my courses, all at once. And as I come across different ideas and activities, I can quickly see where the gaps are and plug those new ideas into those gaps. It's a great tool for designing a course but also a great tool for improving courses over time. It makes a complicated process simple!"   ~ Jen
 
"The ECPC Curriculum Planning Tool provides an organized way to build new and review current course syllabi across a teacher preparation program to ensure alignment across national and state level standards, while focusing on the intentional incorporation of DEC knowledge and skills and recommended practices."   ~  Tracy
 
The ECPC curriculum Planning Tool has been a valuable asset to the Leadership, Policy, and Advocacy for Early Childhood graduate program at the University of North Carolina Wilmington as we are currently revising the program.  As the program coordinator, I am using this tool to ensure our program objectives and student learning objectives are aligned with the DEC, CEC, and NAEYC Advanced Standards among other things. This tool has also helped me organize how yearly program assessment data is collected across the program." ~ Meredith
The Early Childhood Personnel Center (ECPC) in partnership with the Division for Early Childhood (DEC) invites you to be part of the 2020 Early Childhood Intervention Leadership Cohort. The goal of the Early Childhood Leadership Initiative is to provide technical assistance and training to emerging and existing leaders to support statewide Comprehensive Systems of Personnel Development (CSPD). Leaders from institutes of higher education (faculty members), doctoral students and their advisors*, and families will have the opportunity to develop and implement an action plan to enhance one of the six subcomponents of the CSPD (Leadership, Coordination and Sustainability, Recruitment and Retention, Personnel Standards, Inservice, Preservice, and Evaluation). 
Download the Flyer.
 
Next step?  Apply Here! 
The deadline for applications is March 27, 2020.  
 
Words from Cohort members describing their experience: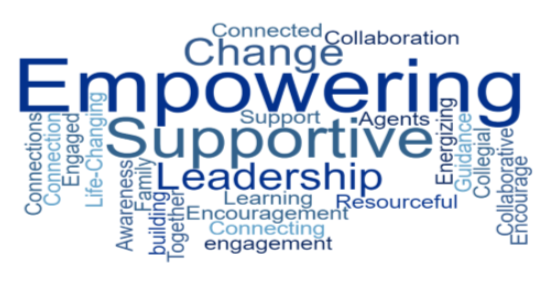 ---