An evaluation plan should address each subcomponent of the CSPD and, initially, address the most critical features of each. Evaluation should be viewed as cyclical in nature. That is, evaluation questions are generated, data are collected, data are analyzed and used to make decisions about the system, changes to the system are made based on the data, system changes are evaluated, and new evaluation questions are generated.
CSPD Evaluation Workgroup strategies to support a high quality workforce.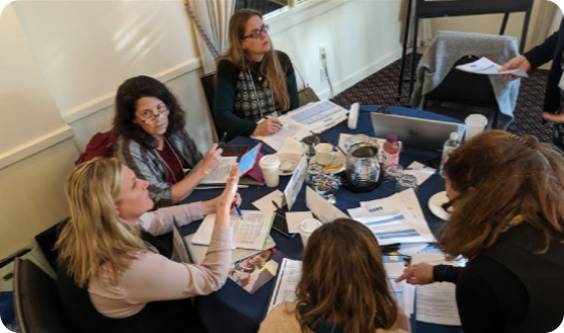 Develop a plan for evaluating the system.
Create process and mechanisms to collect, store, and analyze data.
Implement, monitor, and revise the evaluation plan as necessary based on findings from multiple data sources.
Personnel data collected are linked to child and family outcomes.
The ECPC collaborated with the Early Childhood Technical Assistance Center (ECTA) to create an Early Childhood Systems Framework for Part C and section B(619) Coordinators to evaluate their current systems, identify potential areas for improvement, and develop more effective and efficient systems that support the implementation of evidence-based practices in each of six main areas. The ECPC's work resides in the Personnel/Workforce (PN) component of this framework, which addresses the necessity of understanding workforce capacity in order to provide timely and consistent services by prepared personnel in early childhood. ECPC-CSPD Self-Assessment
Quality Indicators
Quality Indicator 11: The evaluation plan for the CSPD includes processes and mechanisms to collect, store, and analyze data across all subcomponents.
Quality Indicator 12: The evaluation plan is implemented, continuously monitored, and revised as necessary based on multiple data sources.